Our Love
October 21, 2010
Our love,
It grows like a vine,
Quick and confident in where it's headed,
Swerving in and out of an old country fence,
With the spring's cool rain,
Sprouting bright and tasteful fruits.

Our love,
It develops like a rose,
Ravishing but with thorns scattered scarcely,
Up out of the earth's soft moist soil,
With the summer's humid air,
Opening up into crimson red velvet pedals.

Our love,
It resembles the leaves,
An unpredictable pattern worth solving,
Off of the rough tree branches where birds perch,
With the fall's cool breeze,
Slowly morphing into something resplendent.

Our love,
It is like the snow,
Pure and sparkling under the sun's beams,
Falling from the white clouds chilling what it touches,
With the winter's crisp atmosphere,
Growing deeper and deeper.

Our love,
It is that of the seasons,
Ever changing and maturing into something beautiful.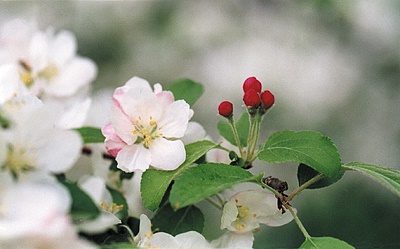 © April P., Newark, DE