Nameless War
October 21, 2010
In a town, painted by the dust of war
Footsteps are tracked in the brown city earth,
By crumbling leather and camouflaged cloth.

A man evading rifle fire,
entering the darkened arms of the stone buildings.
Darting and running through closed alleys,
meeting his silhouetted friend.

He takes hold of the water cartons,
Returning the way he came, he is hindered by metallic cracks of sound.

Making out a yellow eye, and a crooked smile,
The man quickly plunges into a small gap of two buildings

He sees a flash.
Hears a blast.
And is thrown against the brick wall.

Fighting the agony of shattered bones, and frayed flesh.
The man crawls back to his comrades, covered in blood and sweat,
and smelling of death and iron.

The man arrives, barely alive, and barely conscious.

The man, lying In the midst of the slurred shouts, and flailing hands,
Squeezing his father's hand, the man bids a farewell.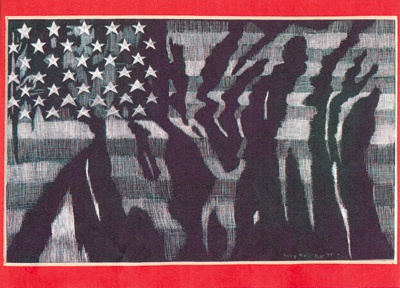 © Haley M., Ellinwood, KS