Red Ribbons
October 21, 2010
Red Ribbons
In an ugly fairytale,
Where a moon hung up high,
Red ribbons were drawn on the walls
Dancing chaotically,
While Princess, a precious angel,
Had the red dripping crayon
In her hand.
Princess as a child was trapped
In a stone built castle, locked in by her terrifying step mother
Her wicked step-mother.
A woman filled with venom that stepmother was,
She was kept in one room,
The floor in the room was always wet for the tears from little princess,
She was a weepy princess, she always had that
purple paint on her face,
And everyone knew why, sometimes at first they were a bright red,
But would slowly alter into a faded purple or blue.
Oh, and don't forget the faint pink that laced up her arms, from her punishments.
Princess waited her prince to sweep her off her feet, every hour, of everyday for years and years.
"On a white steed" she told herself,
"He'll come to carry me away."
She begged him to come for her many nights as the room in the castle got smaller, and smaller,
And more unbearable to her,
The peasants in the surrounding village that would come to stare at princess, from hearing her screams,
But once they saw through the foggy glass windows,
They left her in the stronghold never looking back.
No one ever went to the castle, but the blue ponies that one night
Who whinnied and squealed the whole way there,
Entering the castle they were startled,
Red was everywhere but especially
In a pool,
Leaking from the stepmother,
The princess was the one, who held the red crayon in her hands,
The blue ponies had to take her away, for what she did was very wrong,
And how the weepy princess sobbed when taken,
How they put metal cold bracelets around her wrists,
And oh how she felt that anguish,
POOR princes that she could not be saved.
POOR princess that no one would help her, even though they knew.
POOR princess for she would never
Have her happily ever after.
But instead a life consumed in a miserable,
Wretched,
Nightmare.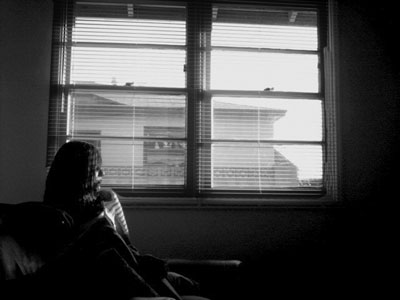 © Roxana R., Tustin, CA