Back to the Rain
October 18, 2010
Will you just let me come back and push the door wide open?
Am I allowed to pour out my heart and say all my foolish pride left unspoken?
I know that your doors will be guarded by lock and chain.
Because I was the one who left you standing there all alone in the rain.
I never showed how sorry I was for all the pain you had,
And I didn't apologize for leaving you so down and sad...

So now it's ironic that i'm the one standing out here in the rain.
Begging and pleading for you to look past all the pain.
All I can say is the past is the past.
But I never thought that the past would last.
So when you opened up your door just a crack,
And handed out that small, brown, paper sack.

Through that tiny crack in the door I could see your tears,
And it wasn't until then I understood the pain behind your fears.
I look down to see two old memories inside the sack.
Remnants of happiness we had so many years back.
Bam! The door slams back shut.
And I walk away with this pain in my gut...

I'm told to move on and let the pain take it's course,
Yet my body is filling with such remorse.
Now I feel that my life has filled yours with nothing but strife.
And I don't know any other apology but to take my own life...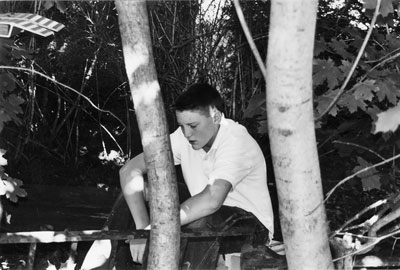 © Dillon O., Pompton Plains, NJ