Therapy
October 13, 2010
Have you ever thought about death?
I think about it all the time.
Not just my death,
But the death of the world.

I imagine flowers wilting
birds falling from the skies,
the ocean's turning black,
and the stars disappearing.

I can picture funerals.
Processions of processions,
ceremony after ceremony.
My mother, father, brother
all gone, all deceased.

I think about it all the time, do you?
This planet no longer turning,
us no longer breathing,
no more light, only darkness,
Black,
to match funeral attire
as if the entire Earth became a funeral
to mourn its own end.

It makes perfect sense to me
and I always ponder on the subject.
The black thoughts are wedged
In my mind's permanent shadows.

Well, even if you don't agree,
Even if you never picture death,
I thank you for listening.
And with that, I leave you.
Farewell doctor.
I will return next week

unless the world dies before then.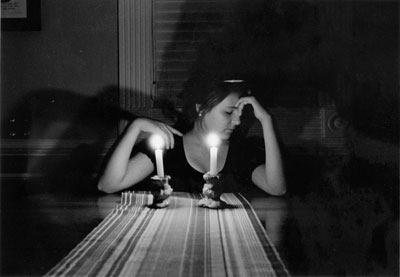 © Eleanor K., Bethesda, MD