Bonding Mountains
October 12, 2010
The light of the moon
causes your beautiful eyes
to sparkle more than ever before.
Their radience matches perfectly
with the luminescent smile
hiding behind your soft lips.
The valleys and peaks of your face
are like that of the mountains'.
The breath-taking sights
are now in my view.
Ice cold streams race down the slopes,
leaving everlasting scars behind
in the rock's surface.
We allow our legs a rest
near the cool creek,
dipping our feet
into the crystal clear water.
The sudden chill sends
shivvers up our spines,
but we soon adapt
to the gelidity.
Realizing there's too much
more to see, we hike onward
through the scattered forests
that speckle the scene.
The forests, though bringing
wear and tear, force the bond between
us and the mountains stronger.
The bitterness in the crisp,
autumn air has now left.
We, once again, find ourselves
at rest. I think to myself,
where would we be
without the obstacles?
We have carried on, over peaks,
through valleys, across
streams and through forests.
Laying in the moons purple light,
we are oblivious to all others
but eachother. The moment is full
of infinite tranquility.
Our puzzle pieces are matched
one second longer, then change immensely.
They may still fit, but will always
be scattered with forest, scarred by streams,
and bitten by the frigid cold that is us.
We will forever hold a spot by the cold
creeks racing down the mountain side that,
at anytime, we are welcome to visit.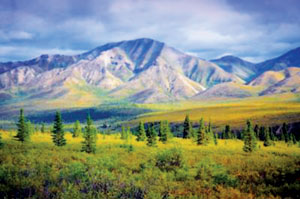 © Haley L., Anchorage, AK