Just a Dream
October 12, 2010
In the gleaming, yellow-orange light of the sunshine,
swirls of happiness dance upon your face. That same light brightens your
crescent sparkling blue-green eyes
that look so much like an ocean.
That beautiful ocean crashing on the
sandy beaches of Florida. You know,
that sand that slips in the wrinkles of your palms
as it runs throughout your grip?
You squeeze and squeeze until no more
grains are blanketing the inside of your hand.
The blanket that is wrapping away reminds me
of the orange peels that ruffle against your skin.
The fields that spread across the land,
craving to grow these florida oranges in the green,
leafy vines for acres and acres...
The sweet smell of pulp drenches onto the
juicy wedges that sit a-top your kissable lips.
As you lick away the freshly made taste,
we sprint through the vineyards that
creep with purple moonlight. We smile between the bushes,
and find eachother once again. Flying
in all different directions, the moment is contaisous laughter.
I look into your perfectly structured face to realize,
you remind me of the world. To realize you are mine,
my light of sunshine,
my sparkling ocean,
my sand that slips in the wrinkles of my palm,
my fields that spread across the land,
my sweet smell of pulp,
my purple moonlight,
even my moment of contaisous laughter.
You are my everything.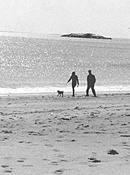 © Megan S., Marblehead, MA