Musical Therapy
MAG
Two essays, math problems, and more.
Additional homework tonight to stress me out.
I swear, it never ends no matter how hard I work.
It's like climbing a brick wall, a wall that keeps building.

I rush upstairs, ignoring my dog's greeting,
And settle down in my comfortable leather chair.
The computer boots up, it slowly hums to life
But not fast enough, as my fingers keep drumming

Impatiently.

I anxiously look around my room: my sanctuary, my haven.
My frantic eyes come to focus on my old Fender.
With its dark coating, flaming frets, and shiny silver strings,
It calls me toward its lonely corner.

I pick it up, placing the strap over my head
And assume a comfortable posture.
There's a pick on the desk; its smooth surface graces my fingertips.
I strum across the strings, all surprisingly tuned.

The sound is soothing.

I play awhile, for how long I know not,
And realize how long it's been since last time.
I'm rusty at first, my chords sound erratic,
But soon the feeling's natural again.

My busy mind, once fraught with worry,
Steadily begins to subside and relax.
My amp blares, all movement becoming second nature,
As I am one with the music, letting it flow through me.

When I finally set my old friend down,
My soul is relaxed and ready.
I vow to play again, once my work is finished

So I start typing.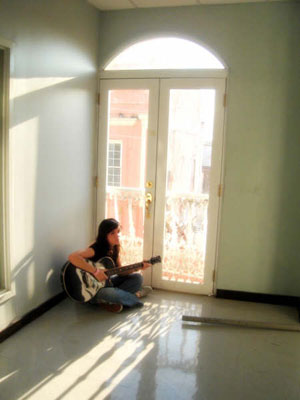 © Eveliz V., Bayamon, Puerto Rico