First Grade
October 12, 2010
"Who's ready for recess?"
Ms. Sweeny sang, swinging open the back door.
Running out to the playground
I head straight for my silver arch.
It's simply a ladder bent twice,
But I couldn't get enough.
To the top I climbed,
Slowly, steadily, yet strong.
The cold metal bars chilling my fingertips.
I stopped a minute to gather myself.
Kids all around me screamed as they played
Tag, slid down slides, and jumped off swings.
Not me, my terrain was
The monkey bars.
I spit on my hands and rubbed them together.
I grasped the first worn rung tightly.
I looked ahead seeing the fallowing rungs to come,
And I leapt down swinging back and forth.
I let go of one rung only to time it perfectly
To catch the next.
Almost there, just a few more rungs to go.
"Five more minutes!"
Ms. Sweeny sang. Distracted,
My sweaty palm gave way and I lost my grip,
Tumbling to the ground my face landed in
The cushion of freshly cut grass.
The scent filled my nose and I was overwhelmed.
I stumbled up to my knees
Swaying back and forth trying to see straight.
My lip felt hot and stung,
I licked it tasting a warm metallic substance.
I must have cut it on the way down
Because there was a few drops of blood leaking out.
I wiped it on my sleeve leaving a bright red stain,
I began to head for the bars once again but then,
"Recess is over time to come in!"
Ms. Sweeny sang.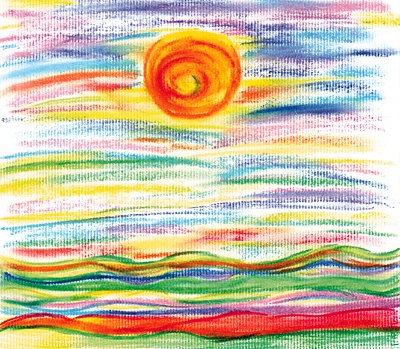 © Jennifer W., Saint Albans, WV