Ghost
October 7, 2010
A shiver from the past,
Of the denuded lust to live;
A whisper of the last
Rises the ghost of my past.
It rises from the dead,
Gliding along with mirth;
Thinking naught of life,
Its every move like mine.
Its breath over my neck,
Running chills down my spine;
The ghost of my past can guess,
Where my deepest remorse exists.
The ghost of my past rises,
Its tiger-like aura glowing-
It pierces straight through me,
Drowning me in its sensation.
Its long, glowing fingers
And lucid silhouette to see,
How they cut through me
To make my present a ghost.
The ghost of my past rises,
Its intentions unclear;
Till it reaches out to me
And engulfs my soul in its icy self.
Its naked kiss exposes
And makes me turn away with shame;
Of goodness my present knows nothing
As the ghost of my past takes everything.
The ghost of my past rises
And glides along to me-
It wraps me up, triumphant
And carries me along to its abode.
Its abode, the grave of my past,
With its welcoming, appealing bed-
The ghost of my past puts me down,
As I retire to peaceful slumber.
Then it rises once again,
But not away from me-
It slowly lowers itself
And settles inside me.
It takes possession of me,
Now, lost within myself, I live;
Its life, my death, I feel
And now the deed is done.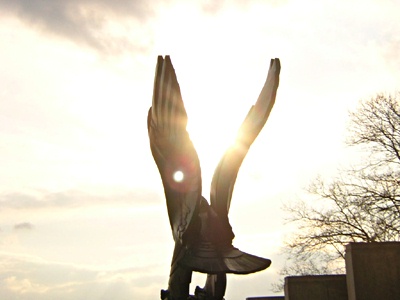 © Brittan S., Claremont, CA