She, in months.
October 2, 2010
January: She seems unhappy today. She seems gray like the heavy, loaded clouds above her head. But I see white like everyone else - I wonder if she can see it?

February: She waits for spring in her favorite sycamore tree - as if she is aiding in the donning of leaves. She sits on the tree's arms and swings her legs. She is beautifully cold.

March: The snow is melting, and she walks to the nearest bookstore to buy new books. Her hat shields her eyes but not her smile that she is glad for the crack of sunlight.

April: She loves the rain. She loves the unmade and incomplete mind of this month. She loves the unpredictability. She stands with an umbrella above her curls.

May: She goes to the pond nearby her house and sits down in the shade. She takes out a book of verses and reads silently. She is missing someone, but the light is still bright.

June: She wears a sheer, see-through dress over her swimsuit, and she sits down on the golden sand. She traces the light on her knees and basks in the summer glory.

July: She seems happily lost. Like she is heading in a general direction without knowing how to get there. She feels a little lonely, but she can't seem to feel cold in all the heat.

August: She wakes up from an afternoon slumber. She is slightly dizzy, and her eyes are closed. Is she dreaming? She reaches for a glass of water. She drinks from the cup and then looks up at the ceiling.

September: Thunder makes her feel alive. The thunder and the heat. The morning dew and the baby steps of the wind. This month is an oxymoron for her. She cuddles into her bed.

October: She is in the backseat of a car. Her head is back and her eyes are closed - out the window are telephone poles and lines, birds, and fragments of dreams. She seems to be slipping in and out of them.

November: She seems to be waiting for someone as she stands there with a look of Zen but a feel of anxiety and expectations. The light dims and without further ado, she walks back with her shadow.

December: She is of two bodies as she chats with others and at night, she is drawn into her own world. She seems to be the bone and the skin - and every awful artery in between.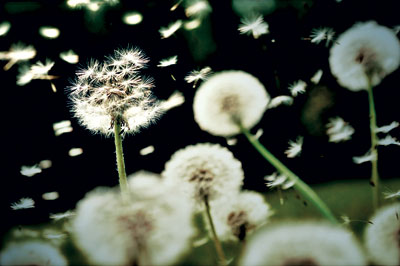 © Haley L., Anchorage, AK