Mourning Star
October 6, 2010
It seems only yesterday
That she was my baby girl.
It seems only yesterday
In my arms she would curl.

Harder and harder
To see her grow up.
Harder and Harder
She's no longer a pup.

Late night outs
And long phone calls.
Back talking, shouts,
And crashing the malls.

Breakups, detention,
Cat fights like-brawl.
I give her attention,
But she continues to fall.

Midnight has come, in her room I would peek;
Hold her, cuddle her, by her side I will sneak.
Sometimes I wonder, what an angelic thing.
So I hold back some tears, and this I will sing:

"High in the sky, I will be for you.
Watching you always, your mom is there too.
Grow you will grow, and I may be far;
Don't worry my child, my mourning star."

Years have passed now
And she's all grown up
How beautiful she is
I still wonder how.

In my bed I will lie
By myself like a heap
Dreaming and thinking
While inside, I shall weep.

???

It seems only yesterday
That I was a child.
It seems only yesterday
That I was very wild.

Harder and Harder
My life has become.
Harder and Harder
Since losing my mom.

Late night outings,
And several prank calls.
Frowning and pouting,
And facing the walls.

Lectures, homework,
Drama and boys.
Teachers to irk,
Weird music and noise.

Years have now passed,
And I questioned his love.
But life went by fast,
Which I tend to think of.

Midnight is near, and his birthday has come through.
I sneak in the room, with a cake and rum too.
Though he's asleep, I wipe his face, glum.
I hold him by my side, to him I shall hum:

"High in the sky; I will wait for you.
Listening always, knowing mom is there too.
Age I will age, but sing I will then.
For one day, you and I will soon meet again."

???

In my bed I will lie, trying not to weep.
With my baby by my side, who's kissing my cheek.
My heart, lost with sadness, now left with a mar,
Is springing with joy, for my morning star.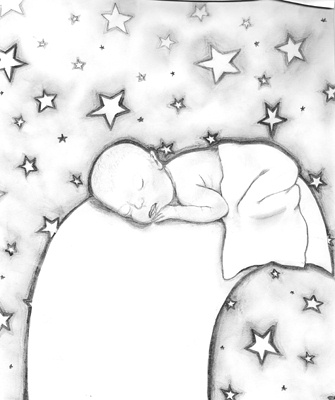 © Julie H., Findlay, OH