Color My World
September 28, 2010
I WANT MORE.

But it is because of this perfect

that I want, that I want to

See pain but not feel it but feel for it.


The stars sing to me the song

the song of the creator of my Creator

The creator who knows me

who knows me and tells me

that there is more

more beyond the Curtain.


Those stars, the stars that humble me

me on those dreamless nights

nights when I say

"I want more"

because with more I feel more

and when I feel more, I see more.

I see more TRUTH.


Star light, star bright,

Shooting stars are only lies.

I wish I may, I wish I might,

See the world for real tonight.


When did people, when did man

Take his paintbrush to the night sky and play God?

I extend my neck in the glow of a cloudy moon of clear black

and I can see.


Draw me a picture, but you see

Our dots don't really connect

Because nothing is here

Nothing is here to stay.


Wish I could run

with my imagination like kids

with fists that hold crayons instead of

against flesh but you say they hold their pencils wrong.

Crayons against the night and draw the sun

as it wakes and smiles

even if it means coloring outside the lines.


And at age nine, there was nothing more

I wanted than to be an astronomer because

even then I said "I want more"

in that little whiny voice that nine-year-olds use

More universe because euphemisms

and idioms and sayings and big words like ubiquity just can't say it.


It is the perfect mystery

that keeps mankind off the couch and on its toes

Because this is my star and this is your star

and we'll always be by each other.


Out of nothing came the stars

and out of nothing I am here.

And you and we and they are here

They connect the stars of our stories

And to those we hold because

Here I am alive, not alone, but here

Knowing that I am alive, that life is love,

that love is life, and love is alive.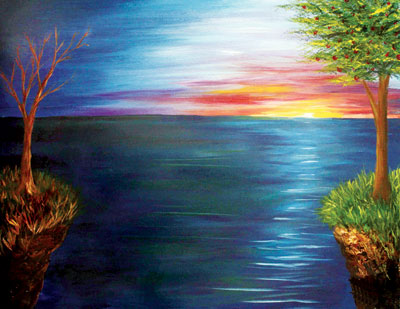 © Ariel G., Moses Lake, WA