Cruel Mistress
September 29, 2010
Fate, a cruel mistress of time,
The keeper of hearts, the teaser of faith,
Oh the monstrosity she creates.
False hope, what a joke,
Thinking only time will tell.
Lie in bed, wish on a star,
Hoping it will wish you well.
Instead it grasps your heart, slashes your hope,
Breaks you apart.
Get up and hold on,
Stay strong,
Cling to the faith, wish on that star,
Pray on every thought.
Defeat this cruel mistress,
The pessimism she creates.
The teaser, the keeper,
The one we call Fate.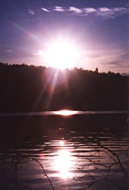 © Laurie T., Hopkinton, MA