Message From the Past
September 29, 2010
What would I say to you? Hmm. Good question. What does it matter anyway? It's not like you'd ever come back. Well, come back and actually make me believe you, that is.

Why did you do that? You never did tell me, you know. You said you would. You said you'd tell me. But you didn't.

Some days I wish I were a bird, and I wish you were a worm. Then maybe you'd know how I feel every day. Not knowing if I'll wake up and go to bed each night in one piece. Early bird catches the worm, right?

You're so handsome. Has anyone ever told you that? Of course they have…and it shows. You flaunt it. The way you walk, the way you talk, the way you dress, all the way to your declining grades. I hope it's worth being so handsome for.

You don't have ugly teeth, or "shark teeth" as you called it. They're apart of you. In the eyes of someone who truly knows you, they're perfect. Don't change them. Stop putting yourself down.

I wish you knew what I really felt that night; sitting there in the dark, listening to my word fall apart word by word. I wish you knew the things I would have said, if I hadn't been so afraid of being misleading, or hurting you.

I'm the only person that truly cared about you. You won't be able to replace me, ever, and you know that. I'm a milestone on your heart for the rest of your years. I've made my eternal impact on you…as you've done to me…and we both know it.

I love the lizard. I did put it on a necklace, you know. Just as I said it would. Sure it looks tacky, but I did it just for you.

Getting snowed in at the movie theater during Christmas break…one of those things that I'll ever forget. You were wearing that Beavers jersey I gave you for Christmas that you loved so much. Oh, and how could I forget that Christmas Angel pin you gave me that day? I knew it was something I'd only really wear in front of you, but I loved it just the same.

Remember falling asleep together that night on the phone? We talked until the break of dawn, your mom didn't even catch you, we were that sneaky. But with the way we were laughing together, it's a wonder how she didn't know. You fell asleep first, just like always. I stayed away for the next half an hour, just listening to your breathing, which eventually led into your snoring. I fell asleep with you, still holding the phone close against my ear. I was so comforted and filled with joy that it was me who got to experience that with you. I slept the most soundly I ever had that night.

Did she experience that too? Did she get to talk to you all night and eventually fall asleep with you? Quite possibly just the night before, for all I know. I could never keep track of who all of your girlfriends were. All I knew was that you told me I was the only one. Now I wish I would still be naïve enough to believe that.

"How to Train Your Dragon" was a cute movie, your parents seemed to agree. I think the four kids sitting behind us kicking our seats agreed with us. Your mom loved the gummy Jujubees you bought her to eat with the movie. That was so sweet. You were always so sweet.

I like your mom overall. She's a bit rough (well, a lot rough) around the edges, but ultimately she's a good mother, just like you're a good son. Your dad seemed more like my sort of person though. A little more gentle, but firm…just like you.

You're not fat. I feel so self-conscious when you say you are. My build is heavier then yours, even if your physique did appear more broad. You thought I weighed 140 at the most…not even close. Remember that conversation in the corner of the food court at Clackamas? I said you were way off. You busted up laughing as you said, "Yeah, because all of it is in your ass and boobs!" I almost felt offended, but busted up laughing just the same. It was you, how could I expect anything else? You held my hand and kissed my lips through our laughter. I miss that day.

Your homophobia was certainly something to laugh about. Especially since you weren't even homophobic, just, cautious. When my buddy played at the Night of Noise you nearly freaked. Remember that? You looked insanely hot in that button up black polo and blue jeans, by the way. I still have that picture of you on my wall that I took of you that night…you know the one I loved so much of you making the funny face? That was your called ID for such a long time. Not as though you ever called when I wanted you to.

I cry a lot. Well, you know, not in front of people. But behind the scenes, I cry. Remember when I nearly broke down crying in the care on the way to the movie with mom and dad? Holding each other's hand, fingers laced, behind the center console where they couldn't see. I ran my fingers over yours, just staring at our hands entwined, trying not to cry. You squeezed my hand and looked into my teary eyes and gave me a small, and yet so comfortingly warm small. I'm not sure I ever loved you more then I did at that very moment as you teased me to make me laugh.

You hated me cutting my hair. I only cut it to just below my shoulders, but I knew you wouldn't like it. On the other side, you thought it looked hot. Too bad you two couldn't have spoken at that point. You two were best friends before anything happened between the three of us. "Shark tooth" boy and the player. Now that the years have worn on, it appears that the player in no longer a player, and the gentleman has now added a twist in our story. The gentleman has now become the bad guy.

Both of you have severed my heart with everlasting grooves. Two people in the world I'll never forget. You both have helped form me, and who I am today. You both have your stories, your memories. But at least I know, that no matter what, you'll both always remember me, and have the guilt of everything you both have done.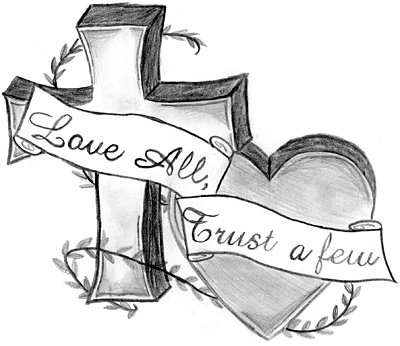 © Gina W., Glen Gardner, NJ