Signs
September 27, 2010
You walk through the town, hungry and with a pocketful of money for lunch with the sun beating down.
You see lots of people going into a diner.
"Finally!" You think after roaming the town nearly half an hour.
When you approach the diner, there is a big sign that says "WHITES ONLY"
Once again, this sign, this sign that keeps this country segregated, this sign is your enemy.
You go through the town until you find a restaurant with another sign "Colored Diner"
You walk in and go to the counter, eager to tame your hunger.
This diner is filthy. It is covered in dirt and rats are running in and out of the kitchen, suddenly, your appetite subsides.
After eating, you start heading home, getting looks from everybody that passes by.
The signs, your forever enemies, are at every restaurant, every movie theatre, and every place you pass.
Most signs say "Whites only" and others say "Colored"; these signs are like a wall, separating everyone.
These signs keep all Americans from having true freedom,
These signs ruin the country.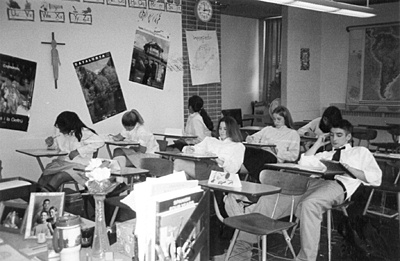 © Fox V., Whitesboro, NY