Faith Must Be Present
September 19, 2010
In life we're going to have many relationships,
some will be exciting and playful,
but deep.
Others will be serious, and understanding,
and others will be all of those,
you will enter relationships in different ways,
some you will know nothing about the person,
not having enough time to learn everything before you take the plunge into
the relationship,
others you'll have nothing but time to learn,
only connecting after all the things are learnt.


Its a catastrophe,
all these different relationships,
presented in different ways,
different with each different person,
you never know how to react to them,
always doubting,
or always faithful,
depending on the person.


You're always second guessing,
always questioning,
always worried,
always in turmoil,
your feelings are on the line,
you can't take risks,
you worry,
and it ruins everything,
you must let it go,
have fun in the relationship,
isn't that why you're in the relationship?
To be playful and have fun?
But it's different,
you want to get to know them,
but you don't know them,
you will,
but until you do,
you worry,



making you unhappy,

which makes him unhappy.


Then you have the other guy,
the reliable one,
the one you know all about,
you tell you're secrets to him,
you talk for hours,
you hang out all the time,
he's constant,
you can trust him,
you feel safe,
knowing that you're going to be fine.
He isn't yours,
which is good,
it would be too comfortable,
too safe,
too normal,
so why do you have that feeling,
the feeling that you don't want,
the feeling that you've tried to banish since the first time,
the feeling is creeping up on you,


slowly,
you don't want to admit it,
because then it will have won,
it will have ruined everything,
it will have started the crazy, fantasizing,
dramatic obsession,


and that's the last thing you want,
you want the discovery,
the surprise that the other offers,
the exhilaration that you feel when you're with him,
teasing,
flirting,
having fun,
nothing serious...



But is that what you really want?
A fling? Because that is what it seems to be,


a fling that will last a while,
until you start having doubts,
having second thoughts,
what do you do?
what should you do,
leave the fun, seriousness,
and be without anything?
Or stay,
always wishing that you could have the safety the other offers?
You know he can offer you that,
he's a good person,
a serious one too,
but you don't know him as well as the other,
and it makes you doubt,
you need faith,
it must be present,
it must be gained,
it must be constant,
it must be there.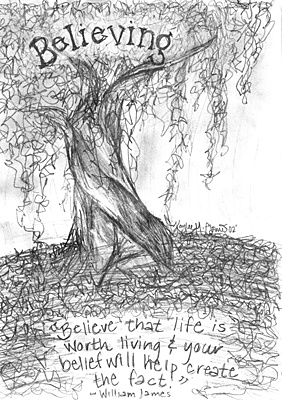 © Kaylee E., Coraopolis, PA