Choices
September 14, 2010
I sit and write and read and write
despite the things I feel and think.

I look and wait and see and wait
and start to think and dwell and ask.

And then I think about choices
the choices we face each day we breathe.

And then I find myself deep down
in pits of choices, choices, choices.

It's odd to think we face so much
in such short times from when we wake.

And when we sleep the choices cease
and wait for our reawakening.

This poem's short and not too packed
with things that weight it down.

I'm only thinking out loud, thinking
thinking
thinking
about how many choices we face, and how many
we don't realize we
make.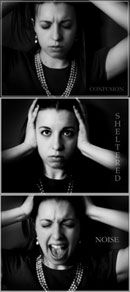 © Michelle B., Blairsville, GA