Waiting
September 24, 2010
I look at you
Sometimes
When the droning-type collaborative whine
Of the teacher that is so
Expert at putting students to sleep
And the quiet laughter of the ones
Kind-of awake and the
AC that doesn't work but manages to growl
(You could say uneasily?)
Start to fade into the back of my head
—very quickly—
And I see you in the
Moshpit hallways
And in the
Moshpit cafeteria
And in the
Moshpit walkways to the buses,
That blessed (in an entirely ironic way)
Transportation away from
There, that, this place
So lovelily bland and seething…
And you never look any different.
Besides the change of the t-shirt
The jeans
(Not really the shoes)
You seem constant,
but I wonder if that's a good thing or not,
Because I look at you and see
Nothing but a face
With shuttered down eyes
And the headphones that don't really play anything
But serve the purpose of imposing distance between
You and the world
And sometimes I see a mouth
(but not often, it doesn't move much)
And when it speaks the words are nearly soundless
And you seem not quite dead
But not quite alive
And I wonder if
You're just waiting for
Something close to
Real life to maybe
Possibly
Ever
Begin?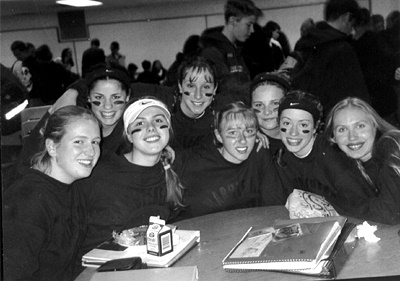 © Heather C., Marblehead, MA