God makes me smile
September 22, 2010
God can be so funny some days, He can make you love then hate. laugh then cry; like life is just a Phase.
One moment there's pain, the next there's joy, your free, then tied to a chain.
God works in mysterious ways, never giving us clues to what's next, we're all actors in his plays.
Puppets on strings, no control of anything, everyones dances, then everyone sings.
Torture it is, theres no better term, It's mysterious this world of His.
Sometimes we laugh, other times we cry, All we can seem to do, is Love, at the least try.
But what about when you've found Love? and God takes it back. do you Fight? Push? or Shove?
do you Scream and Kick? do you pour your Heart out? or pry it off like a bloodsucking tick?
I gave up, I had not fight left, i can't breather, i can't feel. You stole my heart, a clever theft.
You... or was it He? it was God i suspect, He destroyed my desire, my will? no, it is You i detect.
God, Please, i pray now to You, i DO still care, just give him a clue.
God, You can be so funny some days, and God, You certainly work in mysterious ways.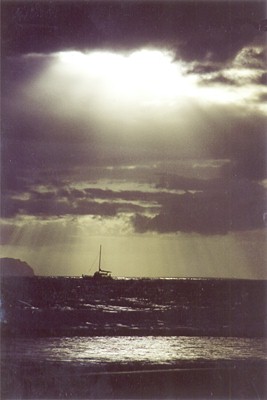 © Lily H., Kekaha, HI