-monster-
September 16, 2010
If you weren't with me,
You wouldn't be hurt.
But if I'm not with you,
There is no me I feel burnt.
That's silly to say because
I can feel no heat.
I hate to have to say this
But I wish for you to have a seat.
I don't understand why, why you want to be like me, like a monster.

You know I love you,
And you know that I always will.
And when I'm not with you,
I am never still.
I can see in your eyes you love me yet,
I also see you need him as well and you
Can't have it both ways.
So please make up your mind before your, in a daze.
I know how everything when I am around
Makes you say burr.
So I don't understand why you would
Want to be a monster.

I have waited for you as long as I have been alive.
And then I seen you take that dive.
I know that he kissed you but I,
Really couldn't care less if you kissed him back or not.
You simply cannot be bought.
I know he doesn't like me,
And I know why,but to be honest
I don't like him either.

I don't want to be what I am,
But if I wasn't I couldn't have met you.
I simply love everything you do.
I love you now as I will always
Love you but I must go away.
Please don't ask why I can't stay.
I do not want you to come along,
So go find him and run along
I will take it so you will never have to hear your song.

Just get over me please,
I hate seeing you like this.
Because with you like this
It is your smile that I will miss.
Again I will also miss your kiss,
But I was the one who left...
I know they all had bets.
Thank you for saving me but
Know he was right.
But I can not be near you,
Because I could kill you with but a bite.

No I am here and like it
Or not you have taken me back.
I know next to him surly there must be something I lack.
Even though we are happy I know
We have broken his heart, and you may look happy but yours is broke too.
See what a monster I am I made you happy yet not, and even though I dislike him I also hurt him.
I just don't know what else there is I can do!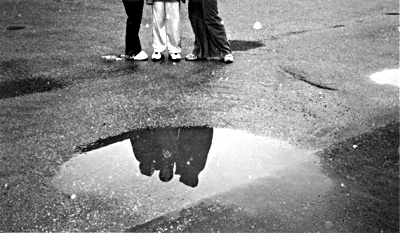 © Gary C., Pequannock, NJ