Autopsy of the Devil's Brain
September 20, 2010
How can I make you love me?
What words, what smile should I use to conquer your heart? You seem to hold on to both ours. Giving yours away and keeping mine.
Tell me when to smile and I will. Tell me when to talk and I will. I'd do it all for your love. I'd do it all for your smile. I'd do it all for a look.
I tried stopping but I couldn't. I tried distance I didn't stay away long. I guess I am doomed to love you. Doom to confort you when you heart is broken by another. I want to say that it's your own fault; instead of giving me your heart you gave it to someone else. I treat you like you deserve to be treated but you barely noticed. You hearts eyes gaze lovingly upon him but cry on my shoulder.
I want to tell you I despise what you did with your heart. I want to say so much things that might hurt you like you hurt me but all I say is 'I love you'. And you don't reply back. I can't hurt you! It's my fault after all, I said I was ok.
But I'm not.I'm alone and cold and depress and hungry. I want to talk to you about it. I want to rely on someone like others seem to rely on me but I can't. I'm ashamed and afraid. Ashamed of my weakness and afraid it'll only draw you farther from me.
I'm here, I'm waiting, I'm loving you but how longue will it last? How longue will my heart be willing to deal with this?
What is the point of waiting if I'm not sure you are comin to me? My hand is stretched. I reach out to you. I want to hold your hands, to kiss your wrisk, palm and, fingers but your back is turned on me. You're gone. You were never here.
Do you not see the viciousness of our friendship? I want you to be happy and my friendship seemed to do the trick; but it doesn't make me happy. My distance would hurt you. Or would it? Either way I'm hurting. I want you to feel it, but you don't seemed to. So I hurt myself even more. I traded.I played. My whole belongs to you but you don't want it. So I give bits and pieces away. What good are they to me? Now I am maculated and it doesn't affect you. I'm disgusted at myself, at people, at love. You'll never know. Tomorrow I'll smile, I'll say I'm great, I'll say I'm not hungry. But
I'm letting go. I'm in free fall. I'm embrassing the chaos.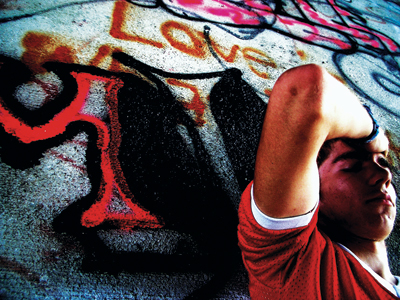 © Sindha A., Champaign, IL