What Hides Behind Every Mirror
September 12, 2010
Cold and white she stares at the mirror's glassy face.
It taunts her,
belittles her.
Strangles her in a fog,
and screams into her bloody pours.

She shrinks.
Minuscule, she is one pebble
on a single rocky road in a wide open world.

A glowing slate reflects
vacant brown eyes,
obscure freckles tell a story.
A story made from dust,
details chiseled away
from a splintering wooden block.

Rimmed with a teal frame,
the mirror is as vibrant as the crisp blue
of the Mediterranean Sea,
opening a window to her defying soul.

Pigtails drape her tattered face,
a scream echoes in a shaft she calls her body.
She is trapped,
illuminating the silent sound of black and white.

But in front of her,
an artist begins to wonder.
Splashes of seagull screeching aqua,
cornfields of daffodil yellow,
and crimson fire appear on an earthly canvas.

We are all a masterpiece.
One swift stroke of purple,
one cross boned snapshot of truth,
one body that appears here,
in the real world,
and there, in the forgotten mirror
that hangs diligently,
on a cloudy white wall.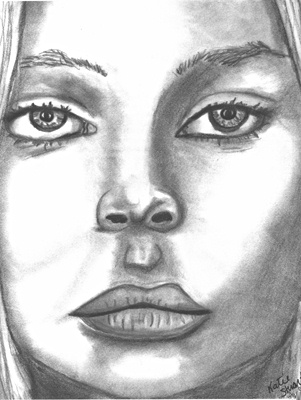 © Katie S., Naperville, CT