"MNEMONIC"
September 1, 2010
It has been a month since I last saw your face.
A face that carried every emotion thinkable when, it came to a personality as perfect as yours.
At night, I like to think you're by my side helping me to cope with this pressure I dare to keep inside.
Still,
I cannot bring my-self to a good night sleep.
My eyes wide awake, feeling like my body is changing as I go into a nocturnal state.
As I took the silky black blanket off me, I rose tiredly from where I wish to rest.
Walking into the kitchen, my stride goes numb and my fingers start to sweat.
The soreness of my eyes, has taken hold on my vision.
All a sudden, the coldest chill went down my spine and I fell on my knees and started to cry.
The clock strikes 1 am; still I am here, thinking of that person who had that chance to save my life.
Remembering what it was like to be by her side, never questioning those words she spoke to me as the memory went by.
I took up the hurt from time from time.
Pain?
Who cares, I was standing by your side.
A thousand eyes turning in the dark, reaching to see her,
To find her,
Trying to seek out what hurt inside her heart.
My shield I dug around her heart was so strong; unbreakable.
This love, all for you my princess of the Sun and goddess of the Moon.
At last I went upon my feet, and stood on the hard wooden floor.
Remembering those precious words, she once reaped to me, for she only wanted to make me whole.
Her wish was for me to happy within myself, and not to bear anyone else.
Slowly I had made the climb back into bed.
All I dared to dream tonight is about you, and to protect what we have from becoming fragile.
I knew you were ok, for next time I see you I'll promise.
I won't be the same.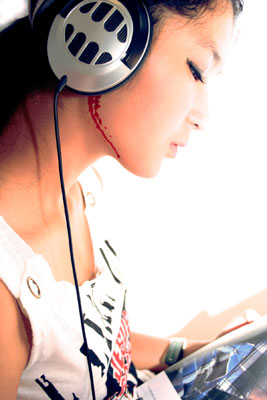 © Jiani L., Toronto, ON, Canada