Can you hear me now, mom?
August 20, 2010
Broken home, no father
don't complain
he wouldn't save you anyway
drugs, lies, beating
he left, abandonment.
i'm numbed by it.
i have to protect my brother from the pain.
for everyday, he longs to see his face and to hear him say, 'i love you, son.'

Broken home, unwanted mother
bottle up inside, is the pain.
she won't listen.
loathe, hate.
selfish, everyone before us.
everything, before us.
every man, before us.
there's no love.
an illusion, she put before my brother.
i can see it falter.
she doesn't listen, she only believes what she wants to believe.
she plays the victim, she plays the desperate mother who tries to take care of us
who loves us?
she only has love left for herself.
i try to speak. i'm angry.
i yell, she hits.
i take it, but not in silence.
i fight back, but become tired.
she'll never understand.
she'll never understand.
that she is wrong.
we both are wrong.
but to her, it's just me.
and she's the victim.
but she doesn't realize that children are maps of their parents.
what i have become, is because of her.
i love no one, i trust no one.
she thinks it's because i'm heartless.
it's because of her, it's all because of her.
i am empty because of her.
i am full, because of her.
of hate, of frustration, of sorrow, of pity.
if something doesn't work in her life, it's my fault.
if something doesn't go her way in her life..
it is my fault.
i just want her to listen to me.
for once in her life.
listen to your daughter.
for she weeps when she's alone.
and she writes this, as one of a million children.
that died from a broken home.
can you hear me now, mom?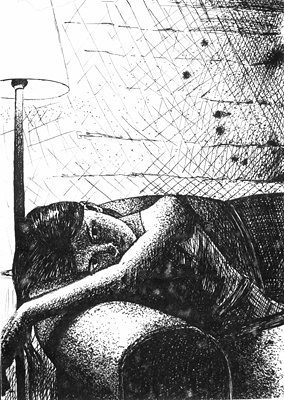 © Elisabeth R., Elmont, NY