How to write a Short Story
September 9, 2010
Sit down. Find a desk, a plush chair.
Rack your brain
Look back on your life, on those super
important, vital life experiences,
or maybe the ones that
Weren't so vital.
Start thinking about the ones that
kept you up all night,
In fits of rage, suppressing tears or
Even a small smile.
Be inspired by yourself!
Don't discriminate, any idea is good now
Create characters, be inspired by you,
Your life,
Neighbours, friends, acquaintances
you rarely meet. Enemies, or maybe even
strangers on the street.
Connect. Create story lines.
Be God.
Kill. Create. Reincarnate.
But don't go too mad with power.
Or diction. Try kissing instead of
"osculation". There's still more:
Restructure, re-edit, rewrite (remember those)
And when you're sure it's over:
Sleep.
Dream.
Be proud of your prose.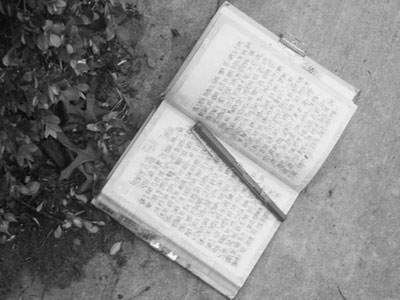 © Quinn B., Lubbock, TX