where im from
September 5, 2010
i am from the warmth of the air to the coldnest in the winter.
i am from the warmness of the sunshine to the coldness of the fog.
i am from family gatherings to aloneness.
i am from board games to no games from mexican food to italian food.
i am from pictures in scrapbooks to taking pictures and framing them.
i am from horror books to romance novels from scary movies to fantasy movies.
i am from birthday parties to no parties fromtexting to the internet.
i am from a box under my bed that holds my most precious memories such as my favorite books, my poetry, and my pictures.
this is where im from.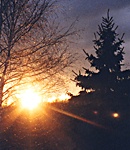 © Christy S., Germantown, NY