Borne on the Arms of the Storm
September 4, 2010
Thunderstruck
On the mountain top
From rolling purple skies
As torrents of rain
Pour
Down,
Soaking through my skin
Drenching my hair,
My clothes,
My soul,
In a baptismal font
Upturned from the heavens.
Cast down the cleansing waters,
For I want to be born again
That I might rise
To be more
Than that which I wholly am.
For I have not the capacity
To love
As I truly should,
Should love itself come waltzing into my life
With arms thrown wide
To embrace
My stolid form.
Mold me new
From the clay of the earth,
A soft putty in your hands
To shape as you wish
Into a being,
Something new,
Better,
Than was there before—
Is here now.
I'm only as good as I choose
To be
In my mind,
Where no one else
Not even me
Can see
For sure
What's ahead
Or behind.
All is darkness and wind
With sparks of shining stars
To illuminate some corners
Of the abyss.
But the darkness isn't lonely—
It hides the other fears
That plague a lighter world
Where with lights
Come pain,
Hate.
Perhaps my god is darkness,
My mother is the sea,
Wrapping me in waves of warmth
To rock me gently to sleep.
Dream away my darling,
You are not lost
To the world
Though winds will whirl through empty space
And thunderbolts still hurl,
Yours is the place of light,
A life among the stars
Where beauty's only judgment
Is that which is made from afar.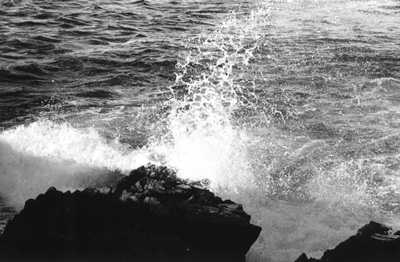 © Shira B., Marblehead, MA