My Heart is Broken
September 6, 2010
My days are still dark,
Because I no longer have your spark
To light my way through,
So the darkness only grew.

Everyday I'm under the weather,
Wish you were here to make it better.
I lack my sunshine,
Swallowed up by these pointy vines.
I can't breathe
Without you here with me.

Remember my soft touch?
How I loved you so much?

I'd help you to understand
Every time you came to me with your problems.
I'd hold your hand,
Make you smile so big and grand.

So why did you leave me?
Why'd you have to say goodbye?
Why can't you still believe
That we were meant to be intertwined?

Sung to me that we will never break up,
That this love is worth it, please don't give up.
And I was stupid, thinking your words were enough
To make me believe in an everlasting "us"

I should have said no.
Should have turned back around and went home.
But I had to stay,
My stubbornness got in the way.

Why must your shady brown eyes
Lift me up, make my heart rise?
Your words are like soft velvet,
Gentle and hot on my ear.
I knew somewhere inside me, I shouldn't have trusted you.
But my heart is not my brain,
And it needed you here.

The cliché summer romance
Was one we knew all too well.
Our parts, that of movie stars,
But the production fell.

Through the cracks of our fingers,
We dismissively watched it seep away,
Why did we allow for it
To end this way?




What about those explosive sparks
That went off like fireworks coloring a dull night sky?
The way my heart beat accelerated
Each time you gazed into my eyes.

I thrived off your presence,
Longed for your return,
Lusted for your sweet sneaky kisses,
And then you had to suddenly sojourn.
Why couldn't you realize your mistake
And drive your truck in a u-turn
Back to my heart that now wallows and aches?

In places I didn't even know I had.
A major piece of my heart you took with you,
When you left me for her,
But I wonder does she love you as much as I do?

Does she kiss you like I used to?
Make silly faces, laugh out loud in crowded places?
Did you give her your chain yet?
Tell her that you love her at sunset?

Do her hands fit more perfectly with yours?
Is love drawn all over her contours?
Does her smile drive you crazy?
Does she make you forget about me completely?

My minutes have all ran out on your clock.
And my key no longer fits into your lock.
You made me and taught me a lot,
But now it's over and I never would have thought
That you could leave me here stranded,
Allowing my heart to rot.

You told me you wanted me forever,
That you've never felt this way before.
Like after a thousand tries,
You finally knocked on the right door.

You told me you loved me.
But your words never meant
What you built them up to be.
They were simply terms mindlessly said,
Never used aptly.

Why can't we just go back to laughing?
Why must I be stuck here asking?
What did I ever do
To not be able to deserve you?

But you're never coming back,
And I need to learn to accept that.
So please just say it low and soft,
Before the night turns to dawn,
Just whisper gently in my ear,
Before you're really gone.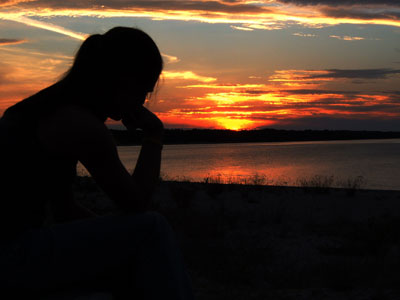 © Hilary L., Rogers City, MI