Time.
August 28, 2010
Time passes slowly;
Unmoving, a blur.

A stoic statue
In a garden of flowers;
Black and withered by day,
Radiant and blue by night.

My heart beats,
As I turn the corner there,
Into that garden stuck
Within the hands of time.

Petals fall,
Nearly like waterfalls;
Their petals vibrant
In the still night air.

I couldn't hear a sound before,
Other than what made me - No -
What begged me, pleaded for me,
Seduced me to come.

Her voice;
So soft, like a nightingale sings -
Deep like echoes in a cave;
Wild like a heart unbridled.

And there she was,
Sitting next to the statue,
Near the fountain where the water falls.
Her black hair a radiance ethereal.

Porcelain skin, delicate fingers,
Tears falling from her pale gray eyes as she sang.
I ran to her there, though keep my distance;
For I was e'er chaste in my ways.

To her, I pleaded,
Please tell me what's wrong!
But her song never broke;
Her angel's voice never stopped.

This woman,
The most beautiful I had ever seen,
I watched as she cried the night away.
Her black hair cascading down around her; the waves of her own abyss.

She shifted once, then,
As I listened to her song-
So sweet in her melody-
And I heard the sound of shackles.

Trapped, was this woman,
To the statue so still,
As it towered over her small frame;
A menacing tower to a caged Rapunzel.

I tried as I might;
But the chains had to stay -
My love I could not have;
As she's still there today.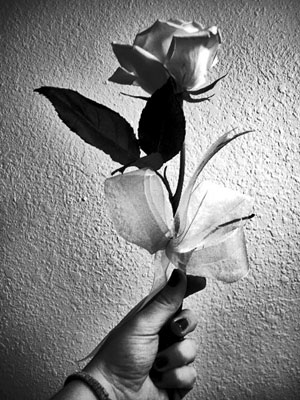 © Lauren R., Edmond, OK