I've Never Felt Love... At Least I Think
September 13, 2010
Nothing can match the surprised faces I have seen when i tell someone,
"I've never kissed a guy".
All of them just can't get it through their heads,
they say " Look at you, how is that possible?"
Honestly, I don't know.

Yet they never guess that every night before i go to sleep,
I wish I had someone's arms around me,
I fall asleep feeling the imaginary comfort of someone keeping me safe,
Someone who whispers sweet nothings into my ear,
someone cradling me in their arms,
someone who makes me feel special.

I try and imagine what it must feel like,
it's just not possible.
In my mind I can't just imagine the fireworks, or spark that you feel when you kiss someone you love.

Yet, even if I haven't felt the lips of a guy caress mine,
I have my own idea about Love.
I think ...

I've had some of those pointless school crushes,
back when boys used to have "kooties"
And even the one time when I thought I was in Love,
I f---ed up.

I didn't know what it felt like to like someone so much.
To be able to tell them every single aspect of your day,
your thoughts and experiences you would think stupid or embarrassing to tell anyone else.

Some studies have shown that Love is simulated in the same part of your brain
as where you would have an addiction to drugs.
Scientists have proven that Love...
really is an addiction.

If that's true, then I really have felt love.
Even though our relationship is still a roller coaster,
Where people I used to hang out with are just ruining our relationship bit by bit.

I used to hang out with the "In" crowd, if I must.
I used to be one of those fake girls who like to pretend to be perfect.
I used to think hanging out with the right people would get me somewhere.
It doesn't.
All they did was stomp on on your confidence and steal away the guys youre close to because they don't
know any other guys.
Oh, did I mention I go to an all girls school?

Because of them, we're slowly drifting apart,
I will always regret breaking his heart, because I didn't know what to do.
I didn't know what Love felt like,
I didn't know how it felt for someone to like me for me.
Because the people I surrounded myself with everyday,
made me feel worthless,
and unloved.

So when you choose your friends,
THINK...
do they like me for me?
or
do they like me for the wrong reasons?

... Have you felt love?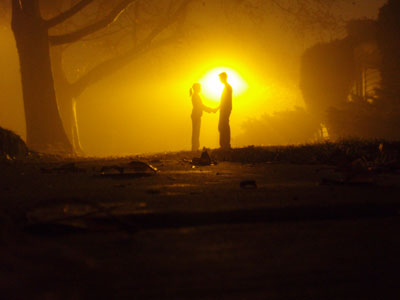 © Tanner H., Kaysville, UT