what is love...?
August 21, 2010
what is love?
everyone has their own perspective,
thoughts,
and ideas on what love is...
i guess it depends on the person
& who they were raised by?

What is real love?
is there a difference between that and the heart-pounding adrenaline rush I feel when I see him?
It's that person we keep track of when he or she is in the same room,
whose comments and actions we analyze to no end.

i know what love isn't
love is not a feeling.
people taht are in love dont always have to feel -
well mushhy around each other.
of course with love you have to have those strong feelings and attractions for someone,
but its not exactly how we would see it in movies.
i dont think a relationship would last long,
on only emotions...


Knowing about the other person is key*
if you know almost everything about one person,
& you feel so comftrable to talk with them about anything,
they know everything about you,
because you two are the best of friends,
the way it should be
because if it is true love
you need to be comftrable with the person
you will be with forever.

You should both have common interests,
and life goals.
Love is a choice. It's a commitment.
you need to work through all your problems
remember to talk them through,
don't just end your relationship because of one stupid thing,
work it through
love is a life long commitment.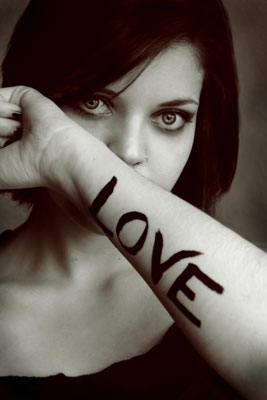 © Michelle B., Blairsville, GA