A Park Bench
August 30, 2010
There's a man who sits on a park bench Sunday mornings. He must be quite a lonely man. He sits on the park bench sipping his coffee, staring at children playing in the sand.

I often wonder what this man might think of, in that head of his. Is he pondering his life that's past, or what the weather is. I often wonder what that man has done on Sunday mornings past. Did he sip his own homemade coffee, and wish Sunday mornings would forever last? Did he throw a football to his son, or brush his daughter's hair? Did he read the Sunday Post? Did he even care?

Did that man, who sits upon that bench, once sit there with someone too? Did he sit with one who made him laugh, and cheered him when he was blue?

But now the seat right next to him is empty as can be. All he's left with are memories, which remind him of the love he used to see.

When I see this man, I think of merry Christmas trees. I think of pumpkin pie and hot and caring, warm and lovely tea. I think of Grandpa's old leather jacket, and a chilly frost bitten nose. I think of rain pattering on our roof, and the way I sneeze at a rose. I think of brown overalls, and picking pumpkins on a chilly day. I think of ice skating in winter months, and feeding horses hay. I think of country fields, and a stolen kiss beneath a tree. I think of picking blackberries, and loudly skinning knees.

I think of the life I might yet live, full of happiness and fun. I think of the life I could yet live, with too much love just for one.

And then I'm back to the present, with that old and lonesome man. And I wonder if a life of joy is worth staring at children, playing in the sand.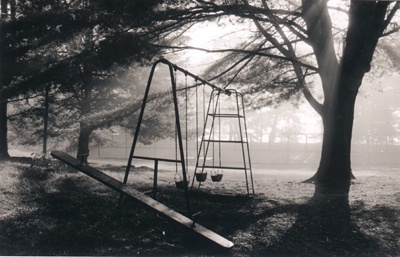 © Steve S., Marblehead, MA