Lost In The Night
August 16, 2010
As life catapults you down an empty path,
In a world that seems to be filled with rath.
You reach out for something to hold,
To pull you back in from the cold.

Then shedding a silent tear,
as you finally succumb to the fear.
Letting go of all the pain,
And pushing away all thats sane.

Time begins to dwindle past,
As you're lost in a chasm so dark and vast.
You go here and there looking for a way out,
Until your only option is to scream and shout.
Help! Help! Is what you scream,
As someone finally wakes you from your terrible dream...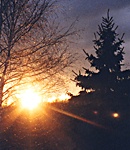 © Christy S., Germantown, NY