At War With His Love
August 15, 2010
Does it ever get better?
Does it ever get easy?
Just some questions that corrupt my mind
as my emotions go crazy.
I hate this state.
The state of uncertainty,
along with this country, where every sign
is mixed up.
Is it safe to say that I hate him
--as much as I love him?
Can I attempt to claim that I don't want him back?
Just in hopes that one day it will stick,
and the next time I see him I won't miss his kiss.

How'd I get caught up in this?
Why am I still here?
I remember once upon a time,
I smiled ear-to-ear.
Where is that girl,
happy-go-luck?
Who is this girl,
Scared-&-unhappy?
I am drowning, in a sea of
his love and his lies.
How could I be so stupid?
Why'd it take this long to realize?

Nobody can save me,
I know because they've tried.
It's up to me and my mind
to decipher what is wrong and
what is right.
Why do I forgive him and overlook all his flaws?
Why do I act as if he has never done me wrong?
I hate these questions.
They refuse to let me sleep;
they refuse to let me eat.

I guess the state of uncertainty
has declared war with my heart.
I think they're winning,
because I am falling apart.

He is their leader,
for he does the most damage.
Yet I keep coming back
as if I'm addicted.
He just stands there and watches me burn,
all though it's alright because
I must like the way it hurts.

I can't breathe,
but I still fight.
I can only fight
just as long as
the wrong feels right.

I feel like a nut-case.
I probably come off as one too.
It's not my fault.
This is just what my love can do!
I'm at my wits ends.
I am going to surrender.
It's not like I have a choice,
he's already put my heart 6 feet under.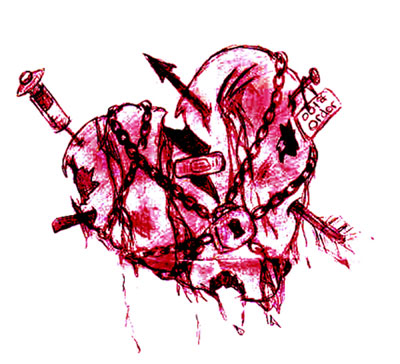 © Asia B., Hudson, MA