I Am From
August 22, 2010
I am from a cut-up nightgown and fingers in my mouth,
To an iPod and headphones in my ears.
I am from seeing my mother cry over the deaths of people I barely knew,
From Telletubies and Buffy The Vampire Slayer,
From struggling to understand my father's accent
To forgetting he even has one.
I am from racing through a pool and shuffling across a court,
From singing along to "Hit Me Baby One More Time" in the car,
And from performing for the world to hear.
I am from a blue talking dog and a boy who sees dead people,
From close friends and long forgotten relatives,
From banana yellow walls and a bright purple ceiling.
I am from my parents telling me, "When a song comes from the ice cream truck it means that they are out of ice cream",
From building castles and safe havens from only some chairs and blankets,
From crying to into a dog's fur when my rabbit ran away (again).
I am from cheddar cheese bagels with strawberry cream cheese,
From crying in a corner when the garbage man came,
From a family who enjoys living life,
Allowing me to live my own.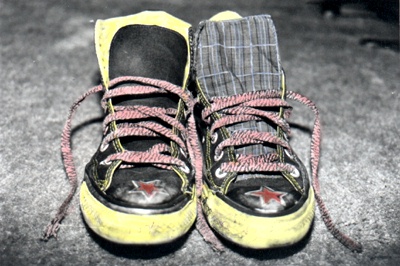 © Dawna B., Lancaster, CA