Butterfly
August 19, 2010
Dear You,
Who are You?
Why did You come and leave?
My mother's father,
Grandmother's lover,
Why did You come and leave?
You had enough time to love her,
Or enough money, as it was.
But after that day,
You looked at Your watch,
and- Oh! No time there was.
But worry not,
O' faithful antagonist,
For she found another mate.
He was reliable,
Was undeniable,
Was responsible and great.
They lived together,
Bouncing around,
Blue-collar soulmates in light.
Not the best mother,
She smoked like no other,
And drank to a stupor each night.
Not raised by the best,
But when put to the test,
My mother sure did turn out right.
She followed her plan,
Then found her a man,
And with him had two kids that are bright.
Not long in life later,
Smoking turned out a traitor,
And a stroke came upon my grandfather.
He was breathing by pump,
Couldn't move,
Was a lump,
Not long after, they just pulled the plug.
It's amazing to think,
That he was on the brink,
And yet so far away from us all.
It just makes me wonder,
What was his final blunder?,
That dealt him this fate to befall.
Was it one pack of Marlboros?
Or Parliaments?
Or Camels?
That turned out to have done him in.
I try not to dwell,
Questioning "Heaven or Hell?",
For it just makes me blame myself.
Was I born a year earlier,
Been born a bit surlier,
I would have told him to walk by the shelf.
Those cig's on the wall,
Were his final downfall,
Had he just walked on by,
He'd've lived.
But the funny thing is,
There's a bit of him left,
Whenever I spell out my name,
Because strangely enough,
Though just writing it's tough,
My initials,
They spell out-
Cig.
He always said that when he passed,
He would be alive and not die,
Though this may sound funny,
The thought makes me feel sunny,
He wanted to be a butterfly.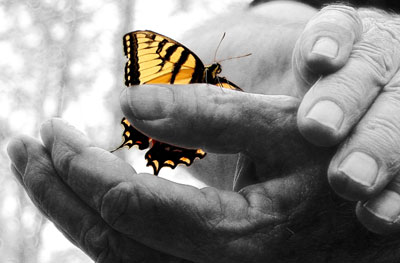 © Katie K., Macon, GA