Your Return
August 14, 2010
Stab my heart, break it apart.
He put me back together and now we restart.
Then out of no where you come back from the grave.
I wish I could have said something but I was startstruck, completly out of luck.
Standing there trapped by your momentary gaze.Then I watched you walk away.Right out of sight.
Slipped through my hands.
Will I ever see yo again?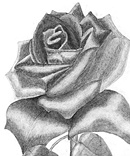 © Nghi L., Phoenix, AZ