Hearts of Hearts
August 12, 2010
Lovely father,
You left me cold and alone,
Oh darling father, why must you be so cruel?

Father-Father,
Help me please, for I need you muchly to stop these pleas.
You see, I'm split in two and my heart is gone cause you carved it out and took it along.
I have no feeling but, pain.
My hearts of hearts is now splattered on a nearby stone, along with Mommy's missing brains... maybe a tooth or two,

Dearest father come back to me...
I am in up-most pain.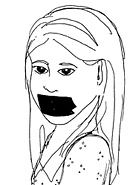 © Liza M., Vineland, NJ