Ignorance is Bliss…at Least Until it Isn't
August 12, 2010
Summer,
A fortress atop a hill
(at least that's what it seemed).
And the forest,
So many games played,
So many happy memories lost.
Then comes winter.
The sickness settled
In your mind.
They say,
"You can't live alone anymore."
They say,
"You should go to a home."
"It's safer that way."
They say.
And so you go.
We visit often but,
The sickness has cast a veil
Over your eyes.
You don't recognize our faces.
You don't recognize our words.
A blank stare,
A limpid smile,
Is all we receive.
Summers pass,
Devoid of fun.
Winter comes again.
We get a The Call.
"tonight"
They say.
Everyone leaves,
Everyone goes to your side.
Everyone but me.
I stay home.
It's dark when they return.
Tears drip down stone faces.
I never got to
Say goodbye.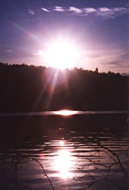 © Laurie T., Hopkinton, MA