They Missed the Blessing in Their Bowl, They Missed Their Blessing on the Whole
August 11, 2010
We called them family
until they turned / a sephia hue.
They couldn't see their own change,
but we knew.

From the honest path,
it is always clear what makes one untrue;
from the dishonest path,
there is no mark between sin and truth.

On the dishonest path,
dirt paved and dry grassed,
the sepia people
carry black-red balloons.
They're a tragi-comedy:
happy! – holding, watching – their balloons
waver in the sky; they don't hear whispers of the monsoon.

The sepia people
are dumb and doomed;
they fly their black-red balloons and eat cheerios
(or try to) with backwards spoons.
They've got bowls of cheer / how do I eat this stuff?
I stuff my face in the bowl, and adorn me with cheer;
(They wake and make a cheer-pocked face).
Their intestines cringe when they smile:
'where's my happy?', it didn't make it down.
It's stuck on their faces. Soon they'll starve;
rib-cages exposed, intestines like sand,
brains like the strands of pulp in expired Orange Juice.

The sepia people have all that they want
but nothing that they know how to use;
the sepia people make me roar with laughter
and make me slouch my face with shame;
when they die, there will be a pop-pop-pop
of their black-red balloons
- that's the signal -
I will enter their homes
and bag bundles of their cheerios,
which will be most useful
- (my people know how to use spoons) -
I will go outside and clean up the mess,
there are the scraps of infernal latex,
I will sweep them into a deep, deep pit;
the devil will want back what he owns,
(those balloons were his containers of their souls).

The sepia people did trade their souls
for fancy homes (and the complimentary balloons),
but in all trades the devil does do a ruse.
The sepia people had homes wherewith things to abuse:
naptime mountains, hypnosis screens, and a minute cooker
that interrogates food by evil means,
(they were perplexed by these, and forgot how to do other things).
When I swept the balloons that had kept the Sepia souls
into that deep, deep pit, the devil spoke to me.
He tried to coax me with a deal as crass
(as the checklist misfortunes / he bestowed upon the traitors who've passed),
that made me laugh like a black-blue cloud that does booms;
I told him he could keep down there with his magical act.

I went back to my yurt – and ate a bowl of cheerios.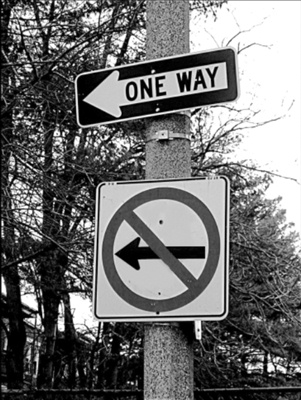 © Maria B., Boston, MA