Evil or Good?
August 10, 2010
Am I good?
I see my 'enemies' look at me.
To them, I'm just a reason to flee.
To them, I am bad.
Am I evil?
My friends look at me and smile,
together we walk every mile.
So I ask again,
Who choses
Which one wins
Or loses?
Now if only I was a fish with fins,
and could swim away
to be with the people
with not a thought of good or evil.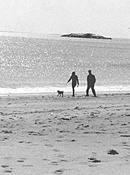 © Megan S., Marblehead, MA