Sunset, Sunrise
August 10, 2010
The sun set today.

The first time we met,
The light was dazzling,
The world was lit up,
Like the sun comes from ocean,
You came into the room,
And like the sunlight,
Your presence was so strong,
That I forgot everything.

But the sun set today.

The sun was continuing to rise,
The day was just starting to light up,
Some people complained,
Said that it was too hot, too bright,
I just drank in the sunshine,
I just let you be my guiding light,
You led me on a difficult path,
But the sun was shining so bright,
I thought everything was alright.

But the sun set today.

The sun was right overhead,
I thought I could do no wrong,
I was so young, so high,
I thought I could follow the sun,
Through the sky and sea,
You led me ahead, didn't let go,
I followed you to dreamland,
And for a moment my world was complete,
Sunshine flooded me.

But the sun set today.

Before I knew it the evening came,
Others saw the sun climb down,
But blinded by your light I could not see,
Heedless, I plunged forward,
Tried to follow you even further,
You tried to stop me, I saw,
But that only pushed me forward,
I didn't think my sun could ever die.

But the sun set today.

I'll still continue on the path you set,
The stars will light the way I walk,
It will be harder in the darkness,
But in your memory I will continue,
The darkness should not have surprised me,
You gave me ample warning -- I did not see,
For every sun eventually has to set.

And my sun set today.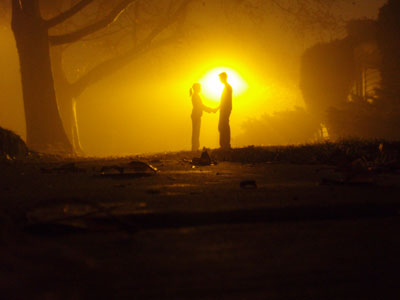 © Tanner H., Kaysville, UT