All Romance is a Stage
July 25, 2010
There was once I time when I loved.
It doesn't seem that long ago, just hazy, covered in a fog of memories.
A few stand out, a few I want to hide away in the darkest corners of my heart,
Where only I can see them.
Others make me laugh, others make me dance, and others make me blush but smile.
Still there are those that make me cry, make me scream, and make my stomach crunch into knots.
These are all scenes from the mad romance you and I have created.
Two different roles, one static and the other dramatic.
One calm and cool, one fiery and brilliant.
It's time for you to make your departure, your grand finale.
Still, the show must go on with me.
Sadly, I need my co-star more than anyone knows.
This manager, this far-off, celestial manger, does not know how badly I need you.
I have tried to plead your case, but it was all for naught.
The manager told me that you yourself resigned.
You were tired of your role, he said. You want something new.
So I stand on stage ready to say my lines without you.
My eyes fill and I can feel my makeup smearing.
All lights and eyes are on me.
My smile freezes and I watch your dark figure walk through our doors.
My final curtain call.
You leave without a backward glance,
As my heart crumbles and hardens to form a bitter shell of what once was.
All romance is a stage, and we all are merely lovers.
But one died one not so special day, and now she is a true actress.
She acts, but does not feel.

Not anymore.

Yet the world still spins, the show goes on.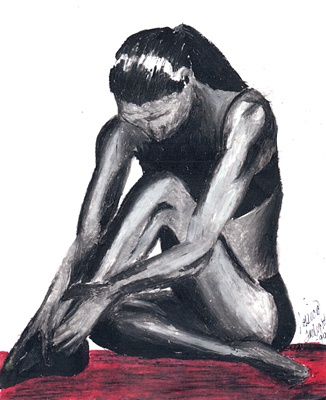 © Jessie Y., Ahwahnee, CA