Pocket Change
July 25, 2010
My pocket change met the cold,
November dirt.
I watched it descend from the treetop
With an ear-to-ear smile.

It weighed me down from reaching
This high altitude,
And my serenity.

The sound of tranquility dazed my ears.
The birds chirped wondrous tunes.
The wind blew a soft breeze,
Dancing in the sky.
The lively, yet calming sounds
Untangled my knots inside.

But that was then.
Before the change.
This is now.

The treetop lay sprawled on the dirt.
The birds chirp no more.
Bitter gusts of wind churn
The atmosphere.
Gravity binds my feet
to the ground under the
soles of my shoes.
And worst of all,
I have pocket change.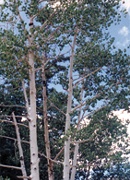 © Bethany D., Philadelphia, PA