Love Lies
August 4, 2010
She puts on the mask.
Thak of fake appearances.
Of innoscence.
Of serenity.
Of lies.
Hides the truth
Behind that mask
Of lies.
She thinks that the lies will protect him from the pain of the truth.
But the lies
Only hurt him more.
He cares about her,
Wants to know the truth.
But she denies him,
Saying nothing is wrong.
Time goes on.
She still wears the mask.
That mask of lies.
His is still worried.
Anxious, afriad.
He finally cannot take
Her lies anymore.
He confronts her,
Demands her to tell the truth.
She shakes her head,
Saying she is healthy and well.
He turns angrily,
Storms from the house.
He did not see her
Alive ever again.
For the next time he saw her,
She was in a coffin.
Dead.
He saw through the mask now.
That mask of lies.
It was only to protect him
From the pain of the truth.
But he does not remember
Her lies now.
He forgives her,
Brings her flowers every day.
Now he knows
The curse of the mask.
That mask of lies.
And that mask of lies
Died with them both.
She from cancer.
He from a broken heart.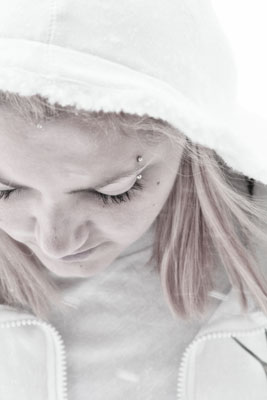 © Jessica F., Bradford, MA