Ocean Eyes
June 28, 2010
The ocean was
my favorite place
rimmed with warm sand
and freezing cold waves.
I remember how
your water brushed up against
my feet, on the shore line
when I walked.

Then the sun warmed the currents
and the waves crashed harder
and more footsteps appeared
in the sand.
I remember how
that first time felt
when I dipped my toes
into the sea.

And when the sun was
So blistering hot that I had
to jump in,
you pulled me so deep
into your waters,
I almost forgot to breathe.
I remember how
I always needed my life jacket
but you taught me
how to swim.

But as that sweet summer
drifted down,
the hazy heat of
one hundred sunny days
took their toll on you.
I remember how
your tides glazed
with a drunkenness
that never seemed to match
my own.

And when it was time
to finally to bid the summer
a last farewell,
the green-blue flushed
with salty tears.
I remember how
you dug your waves
into the sand
and with a knife in your hand,
you drowned me.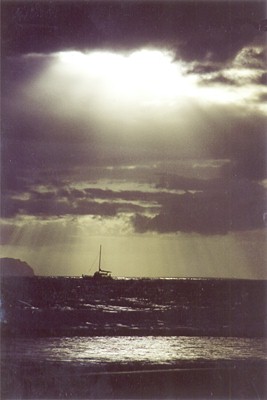 © Lily H., Kekaha, HI