Eight
June 27, 2010
I look in the mirror and see
Ugliness.
Hair curly by nature
I burn into a fine smooth replica
That is soon unmade by the water in the air.
My thighs are too fat
And so are my sides
Exercise hurts my heart…
And everday I see the people
I strive to be
In movies, in billboards, in the street
And every time I feel worse.
My weight is a fluctuating machine
That with my mood rises and falls .
I wish I could love who I am
But the scar on my leg and my flabby cellulite
Make it impossible for me to walk confident.
My mom is walking perfection with a size three.
That, I wish I could be.
But I am just me
And I walk in my double d's
With my frizzy wavy nest
And my imperfections
All showing and the pimple in my face growing
And my petite figure will never be good enough
All because I will never be the perfect model in that magazine with my size eight.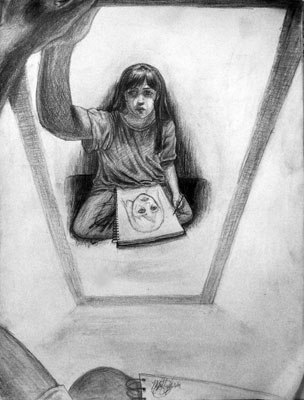 © Phyllis S., Far Hills, NJ