Compressed Within
July 14, 2010
Running, running, running… as if in a dream.
Simply running away from everything
- running from myself and the world,
from every thing I hate and from all my mistakes.
That is what I'm doing here, lying in my room.
Blasting music to drown out my thoughts.
Hoping and waiting for my heart to stop.
I do not want to live like this anymore.
I cannot bear the pain.
I cannot go through another dark rainy day.

Everything is held inside of me.
Go away. I'm fine. There's nothing to see.
I just want to lay here by myself.
Fighting back the tears, I just cannot let this show.
No one needs to know all my fears.
No one needs to know the wounds I receive.
This is something among myself, I, and me.
As my eyes flood, the levees soon break
- gushing, and streaming tears -
Proving my strength a fake.
After the sudden quake in my face,
After the small aftermath eruptions pass,
Now I think I'm back to my normal self.

I know I feel better, but see,
Somehow I can't let go of this pain.
It refuses to heal.
Sometimes I just can't deal.
Yet I still erect these massive defensive walls
in front of my heart
to protect my soul.
They ensure no one gets in.
They stubbornly will not yield and open for anyone with whom I speak.
The fear that anyone who might be permitted in
could hurt me again
prevents these lips from telling their story.

My words on paper and my creations of art are the only peek-holes into my heart.
No one holds the key for only I posses it within myself.
It will never be obtained by anyone else.
I'm not even sure if it is of importance.
There might not even exist a key-hole.
Maybe these doors must remain forever closed.
These feelings unleashed
could cause problems and troubles
for everyone around me.
I wish not to burden or disturb peace of mind
so never will anyone these things find.

I must go to sleep to forget these thoughts and this day.
I must forget this part of myself
to continue being as happy as I can be
with these never-ending insecurities.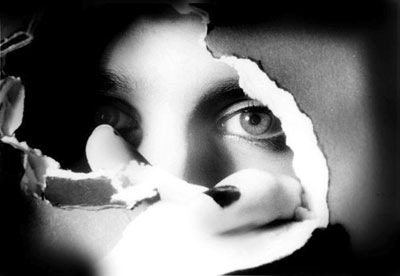 © Tabatha B., Peoria, IL