The beauty of an hour glass
June 21, 2010
As I look at the specs of sand falling down from the hour glass.
I see the moments of time slow presenting itself in front of me.
But how this moment itself happen this way, I wonder how it began.
So I flip the hour glass over so it can show how it happened all over again.
The moments of laughter and tear,
The moments of wondering why you weren't here.
The days I ran into your arms,
And the days I stood in them to keep out of harm.
The days were you were right and I was wrong,
And the days you would preach the same song.
The times you would ask me "where did my baby go?"
And I would tell you "I'm still here daddy, but I'm grown."
The names I would always keep as I would still be your "princess"
No matter what age I seem to be.
And the day daddy took my hand and showed me what life may be like.
He took a knee a told me what every strong part of myself was.
He said, with these eyes you will see something wrong and demand a change.
With this voice you will make your voice heard and be brave.
With these ears you will listen to the voice of the people and help them.
With this smile you will break so many hearts but fill the rest with warmth.
But with these hands you will make your dreams come true as you write your heart away.
I shook my head and told him… No daddy these hands are meant to stay in yours, so you can guide me through life and show me wrong from right. To walk me through my obstacles in life. To pick me up when I fell down, to wave good-bye to you as I walk out the front door, to do our little hand shakes and I will always scream "one more time daddy". To play video games with you at all hours of the night and when we win we give each other a high five. This is what these hands are made for.
But most of all these little hands are made for when I get older and you have to give this hand away to another man.
And you get to see the happiness shine on my face.
Than you know you did the best you can with me.
A daughter always holds here daddy's hand when she crosses the street.
But it's when you get to the other side of the road that the hardest thing.
Because no matter how much you never want to get to the other side.
You know that sometime in life you have to let your daughter's hand go.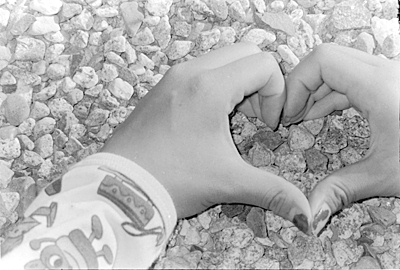 © Caitlin T., Marblehead, MA